First Minority Business Website
About: MinorityBank.com was launched in 1998. Since then, we have helped a generation of businesses.
What We Do
MinorityBank.com helps women and minorities obtain information on financing and running a business. We were the first website focused on women and minority business financing specifically. We have been cited in the Wall Street Journal, the Washington Post, the American Banker Newspaper, JET and Black Enterprise Magazines and other publications as providing unique, value-adding insight, advice and assistance.
Our goal is to help provide access to small business loans, personal loans, car loans, student loans and other financing resources at insight competitive rates, in a timely manner.
Our Vision & Mission
Women and minority firms have a difficult time obtaining personal and business financing. We all know why (bigotry, sexism, racism), but we do not shy away from the REAL reasons, unlike virtually everyone (NCRC, NAACP, Urban League, CDFI Fund, Operation HOPE, etc..) else in this space. This gives us the ability to more accurately forecast what's coming down the pike and allows us to develop solutions and make recommendations that are more effective than pretending racism does not exist. Nor do we buy into the argument that citing it means you are playing "the Race Card" and just complaining, giving up. (Hat's off to whatever racist came up with THAT – there is no race card. There is only history…and facts.)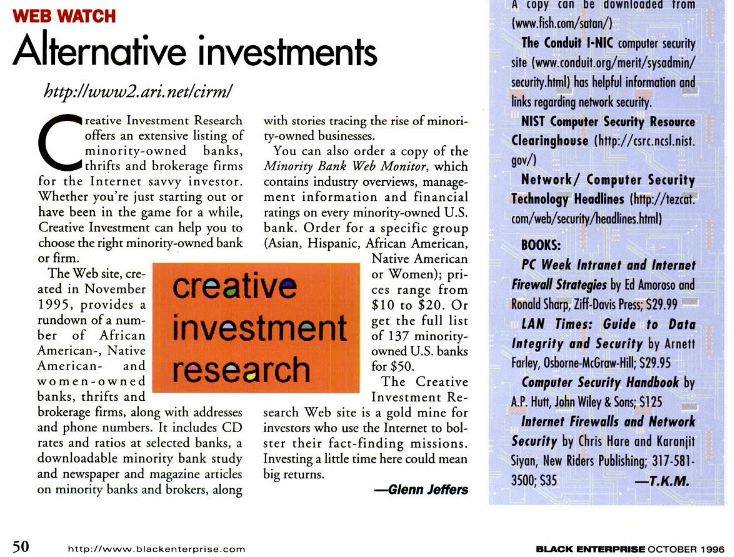 Location
PO Box 75574
Washington, DC 20013