The latest employment data released by the Labor Department on Friday, May 5, shows the U.S. job market growing at a strong pace. Employers added 253,000 jobs in April on a seasonally adjusted basis. The overall unemployment rate also decreased to 3.4 percent, down from 3.5 percent in March, matching the lowest since 1969.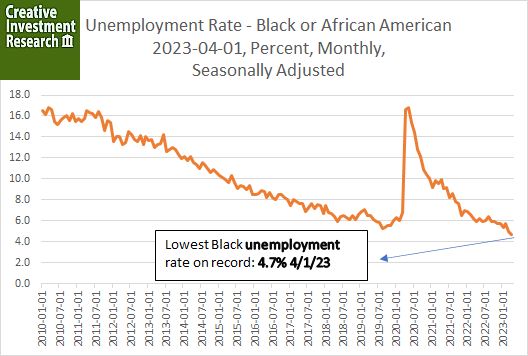 Black unemployment hit a historic low. The unemployment rate for Black workers fell to 4.7 percent in April, the lowest on record since the Labor Department began collecting Black unemployment data in 1972. This is a significant achievement for the Black community, which has historically faced much higher levels of unemployment relative to other ethnic groups.
The unemployment data creates challenges for the Federal Reserve, complicating monetary policy and the potential pause in interest rate increases. The strong labor market could lead to an increase in wages and inflation, making it more difficult to reach current monetary policy goals.
Another challenge is the increasing concentration of market share among the largest banks resulting from the closure and sale of several sizeable institutions. This has adverse effects on society by reducing competition, stifling innovation, and potentially leading to redlining, higher fees, and less favorable lending terms. Additionally, a highly concentrated banking system hinders the effective transmission of monetary policy and slows down the implementation of changes to interest rates, another impediment to the Fed's efforts to control inflation.
Despite these challenges, the latest employment data is a positive sign for the U.S. economy. The strong labor market and historic low unemployment rates for Black and Hispanic workers are a testament to the resilience of the American workforce. As the economy continues to improve, policymakers will need to find ways to balance the growth with inflation control and maintain a healthy and competitive banking system.