The number of minority banks in the US held steady at between 168 and 174 in the second quarter of 2022.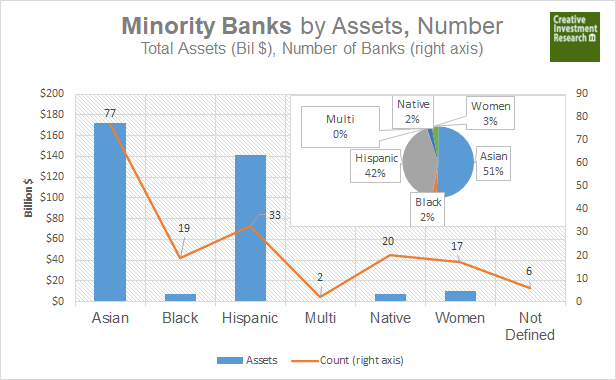 Asian owned banks, concentrated in California, hold 51% of assets, with 77 institutions., Hispanic banks, concentrated in Florida and Texas, number 33 institutions and hold 42% of assets, followed by Women-owned banks (17 institutions with 3% of assets), Black Banks (19 institutions and 2% of assets), Native American Banks (20 institutions and 2% of assets) and Multi-ethnic Banks (2 institutions and 0.42% of assets)
Asian assets total $172 billion. Hispanic institutions hold $141 billion. Women-owned bank assets total $9.7 billion. Black bank assets are $7 billion. Native American institutions hold $7.6 billion and Multi-ethnic banks have $480 million in assets.
These factors point to a set of policies designed to assist the growth and utilization of these institutions. Our report describes and details these factors.
Mid-Year 2022 Minority Bank and Thrift Review ($450.00)
CONTENTS
Summary 3
Geographic Concentration 5
Asian Banks 6
Hispanic Banks 7
Black Banks 8
Conclusion 9
Endnotes 10
To download a summary of the report, click https://drive.google.com/file/d/1lgemlAcjif9rGYGb2tcWpR8L_2wzqFJH/view?usp=sharing
For information, email info@minoritybank
Research assistant: Nishanth Gaddam, Impact Investing Intern.